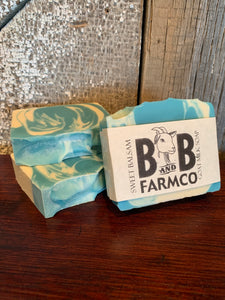 Note: This item is available thru the Holiday Season as our Autumn Harvest Goat Milk Soap. Same ingredients, just a different name. Thank you.
This sweet fragrant Goat Milk Soap has a mix of apple, fig, caramel, cinnamon, and balsam forest notes. It is also a match to our Sweet Balsam Goat Milk lotion. have some fun getting lost in the forest.

Made from: sunflower oil, olive oil, coconut oil, goat milk, water, sodium hydroxide, fragrance, oxides.

4.75 oz.