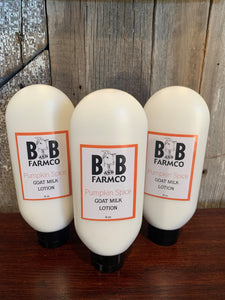 You need this fabulous fall fragrance in your collection - Fresh pumpkin top notes with the perfect mix of cinnamon, cardamom, nutmeg, and brown sugar, followed with a lingering base note of vanilla. Enjoy!
Non-greasy, making it suitable for face, body, and hands.
8oz with flip top cap.
Made with goat milk, distilled water, sunflower oil, emulsifying wax, shea butter, avocado oil, stearic acid, essential oil, optiphen*.
*Paraben and formaldehyde free preservative.