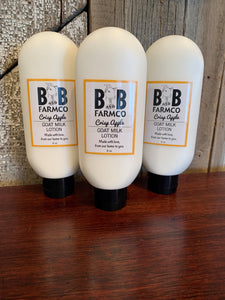 Nothing beats the smell of fresh cut apples. Like you are strolling through the orchard with the sun in your face and the wind at your back. Enjoy!
Non-greasy, making it suitable for face, body, and hands.
8ozflip top cap.
Made with goat milk, distilled water, sunflower oil, emulsifying wax, shea butter, avocado oil, stearic acid, essential oil, optiphen*.
*Paraben and formaldehyde free preservative.