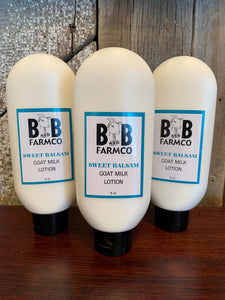 Note: This item is available thru the fall and Holiday Season as our Autumn Harvest lotion. Same ingredients, just a different name. Thank you.
You will love the beautiful fragrance of our Sweet Balsam Goat Milk Lotion which has a mix of apple, fig, caramel, cinnamon, and balsam forest notes.
Non-greasy, making it suitable for face, body and hands. 
8oz flip top cap.
Made from: goat milk, distilled water, sunflower oil, emulsifying wax, shea butter, avocado oil, stearic acid, fragrance, optiphen.*
*Paraben and formaldehyde free preservative