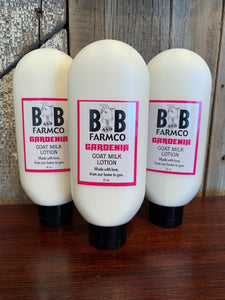 If you love the smell of Gardenias, you will love this lotion. The fresh scent of Gardenia with just a hint of rose. This lotion will leave you velvety soft and smelling like the beautiful flowery buds. Enjoy.
Non-greasy, making it suitable for hands, body and face. 
8oz with flip top cap.
Made from: goat milk, distilled water, sunflower oil, emulsifying wax, shea butter, avocado oil, stearic acid, essential oils, optiphen.*
*Paraben and formaldehyde free preservative