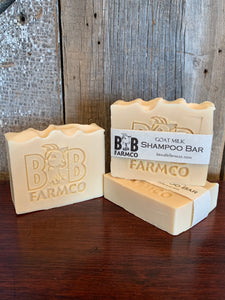 B and B Farmco Goat Milk Shampoo Bars are made a little different. In addition to our raw Goat Milk Soap recipe that already contains the added moisturizers excellent for hair and scalp health, we then also add Castor Oil and Jojoba Oil for exceptional lather and extra conditioning that helps leave your hair shiny and healthy without stripping away natural oils. Tremendous for dry hair and scalp or split ends. B and B Farmco Shampoo Bars can also be used for skin and body. No colorants or scents are added. This is as natural as it gets.
Shampoo Bars can be used in different ways. Some people like to rub the bar right on their hair and scalp, while others prefer to lather it in their hands first and then apply to their hair. Please let us know your style. Enjoy.
Contains: Sunflower Oil, Coconut Oil, Olive Oil, Castor Oil, Jojoba Oil, Goat Milk, Water, Sodium Hydroxide.
4.75 oz.